Wikipedia, Google made Halima Sultan the mother of which Pakistani actor? the tech giant did yet another mistake.
#1 search engine of the world Google and biggest informational website Wikipedia have named actress Esra Bilgic, who played Halima Sultan in the Turkish drama Ertugrul Ghazi, the mother of Pakistani actor Yasir Hussain who has been being trolled by Pakistanis for his hate for Ertugrul Ghazi cast.
You can see a Google search screenshot: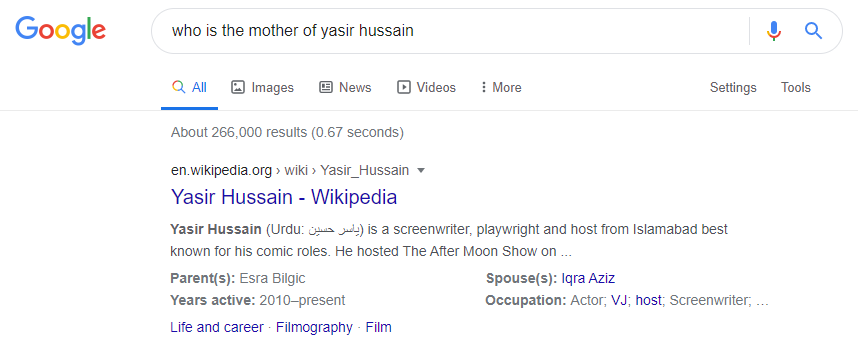 According to media reports, due to a flaw in the algorithm of the best internet search engine, where Google had presented Anushka Sharma, the wife of Indian cricketer Virat Kohli, as the wife of an unmarried Afghan cricketer Rashid Khan. Now, due to an error in the algorithm, Isra Bulgach is being presented as the mother of Yasir Hussain.
However, if the Wikipedia page is opened, there is no mention of Esra Bilgic in it and similarly, if the name of Yasir Hussain's father is searched on Google, there is no error in the algorithm.
However, in the introductory section of Yasir Hussain on the main page of the search, Isra Bilgic is presented as his parents.
According to experts, the algorithm is presenting the Turkish actress as his mother due to Yasir Hussain's criticism of Esra Bilgic being appointed ambassador of Pakistani brands and is a result of high search queries with the same context.